At the second day of Realize LIVE, the flagship event that brings together the Siemens Digital Industries Software community, attendees were challenged "Be the change". Perhaps best illustrated by Easton LaChapelle, co-founder and CEO of Unlimited Tomorrow, who took the stage to tell the story of how his childhood passion for robotics and a chance encounter with a young girl with a prosthetic arm led him on a journey of innovation powered by Siemens technology.
Unlimited Tomorrow empowers individuals with upper limb differences by making high quality, low-cost bionic prosthetics that are easily accessible to everyone who needs them. Bringing together mass customization, patient-specific fit and the power of additive manufacturing, LaChapelle exemplifies the idea of "Be the change".
How does he approach the innovative work that Unlimited Tomorrow is doing to dramatically change not only the lives of his customers but also the way to approach the prosthetics industry? By harnessing our natural curiosity. As he explained, "Curiosity is something that is in all of us and it's a main driver in all of us. It makes us ask questions and it shapes our answers. Curiosity is incredibly powerful, and I like to think of curiosity as a tool."
Sustainability as a business driver
The day's general sessions also brought together organizations working across a wide gamut of industry to discuss sustainability in the context of digital transformation. Eryn Devola, Head of Sustainability, Siemens Digital Industries, was joined by Greenforges, who design and develop sustainable underground farming systems, Energica Inside who are pioneering electrification in the mobility industry and Space Perspective, a human spaceflight company committed to fundamentally changing people's view and perception of Earth.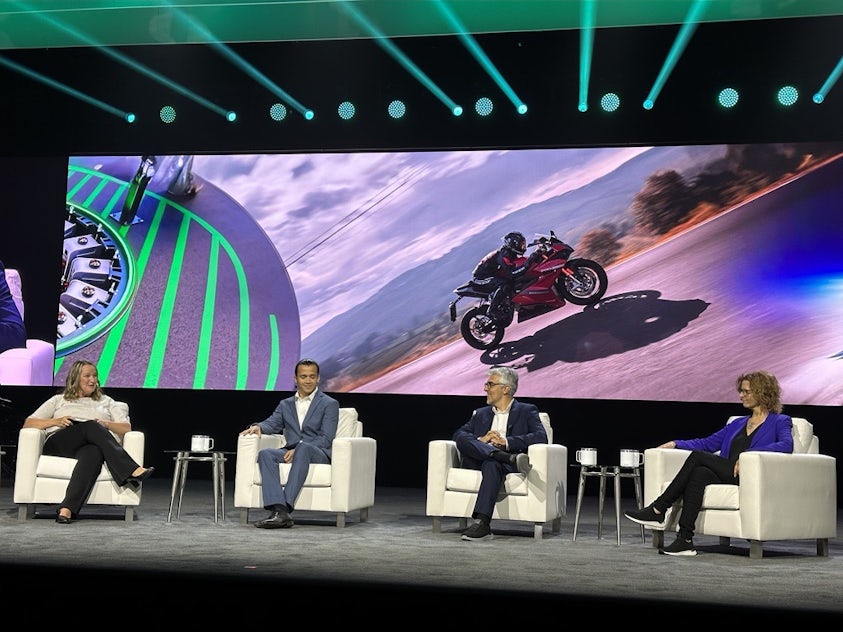 The sustainability panel discussion deep dived into how customers across mobility, agricultural technology and space flight are addressing and tackling sustainability.  (L to R): Eryn Devola (Siemens), Ramón Pereira Bonilla (GreenForges), Carlo Iacovini (Energica Inside), Jane Poynter (Space Perspective)
The core takeaway that came out of the discussion was the importance of considering sustainability problems with a fresh perspective. As Ramón Pereira Bonilla, Head of Community and Communications, GreenForges explained, "There are other companies that have done agricultural projects underground, but they've mainly taken overground technology and placed it, for example, in an old bomb shelter. They haven't designed technology that is meant to be underground."
Energica Inside discussed how it is taking its wealth of knowledge and expertise developed in the electric motorcycle industry and has found new ways to reuse and leverage that know-how. As Carlo Iacovini, General Manager, Energica Inside, explained, "We asked ourselves 'How can we share all of this experience that we have gained?' Let's take all of this experience, our core competencies and all of our knowledge we have achieved in the electric motorcycle industry and make it available to other industries that are now entering into electrification."
"It's most likely they are facing the same problems we solved 10 years ago so; whether that's how to develop an electric powertrain or design a battery pack, we can help them define their product development and their solutions. With this approach, we don't only address the two-wheel vehicle segments, we can address aviation, agriculture, four wheels, entertainment – it allows us to scale up our technology and brings us to the mainstream."
Systems are the future
In one of several sessions for invited media and industry analysts, Siemens leaders discussed how solutions are evolving to enable a systems-based approach to product development. As product complexity grows exponentially across all industries, radically better-connected multi-domain solutions and new methodologies are required. From the use of a systems-based approach at the Boeing Company to start-ups using a systems-based approach to revolutionize prosthetic limb development, systems-based engineering approaches are gaining not only acceptance and helping tackle growing complexity but driving the next generation of innovation.
As Dale Tutt, Vice President Industry Strategy at Siemens Digital Industries Software explained, "We have anticipated where our customers are heading. We have invested in electrical and electronics solutions, simulation, systems engineering and manufacturing and we're excited about the future. It's going to help prepare our customers for the future because products are just going to get more complex - and who knows what's coming next."
"When our customers use these highly technical processes and the Siemens Xcelerator portfolio, we're helping them develop these new products faster using the digital twin and the digital thread. We're increasing the performance of these products by optimizing the systems and helping customers look at how they operate, looking at 1,000s of cases. It's about getting it right the first time and being more sustainable. By bringing these new products to market using integrated systems engineering approaches, connected by a digital thread, we're able to help them develop these products and the manufacturing processes faster."
Zel X – delivering personalized solutions
Siemens also took the opportunity to highlight how it is embracing the cloud to address new markets with a look at a new cloud-native service that has been in development for the past year. Zel X was created for small and midsize businesses who need an affordable and capable workshop management and execution platform. It brings together Siemens technology from in NX for 3D CAD geometry manipulation and CNC programming capability, data management and mastery of collaboration from Teamcenter in a process- and business-specific set of capabilities.
Tony Hemmelgarn, President and CEO of Siemens Digital Industries Software, explained the benefits that early adopters are reaping from their adoption of Zel X, "Companies like WashTech were managing their RFQ process with email and tracking spreadsheets and their Founder and Director, Mathieu Fresco, was looking for a different way to do this. They adopted Zel X to remove the confusion, translation hassles, and tracking and quoting inefficiencies. He says it has made a big difference to his business. He said, "With Zel X, he says they'll now be able to provide quotes 50% faster and win 30% more orders."
Summary
"Be the change" was the mantra at this year's Realive LIVE and across the presentations and break-out sessions, Siemens and its community of users and partners have explored not only how the industrial world is growing in complexity, but, more importantly, how we can leverage the best technologies and associated methodologies to address that complexity. From our initiatives in cloud-native and composable software architecture to deliver more personalized and adaptable solutions that are laser focused on business processes, to exploring how systems-based engineering approaches allow us to build smarter more connected products, faster and more sustainably than ever before.