Siemens Digital Industries Software has opened Realize LIVE, its flagship event that brings together our community of users, partners and experts. Realize LIVE also provides a platform to present our vision as we continue our journey of transformation. Just as the industrial world is going through a period of dramatic shifts, change and adaptation, Siemens is changing how it does business and how it builds then delivers the solutions, services and capabilities fundamental to the leading manufacturers and innovators across the globe.
President and CEO, Tony Hemmelgarn took the stage to update how the transition to a cloud-focused, software-as-as-service, technology company, first begun in 2019 is gaining momentum and scale. The Siemens Xcelerator portfolio of industry software has been adopted across a wide spectrum of industry.
"We told investors at Capital Markets Day that we would have 40% of our ARR be cloud ARR by 2025. Our share of the cloud market is growing impressively. In Q2 of FY2023, we're at 25% cloud ARR vs. 4% in 2020 and very shortly, we'll be at over $1bn in cloud ARR. Our capabilities are helping us with market share," said Hemmelgarn. "74% of cloud orders are from SMB. This creates new opportunities for us to expand, but this isn't just about new customers. Our existing customers have embraced this strategy. In fact, in our existing accounts we are seeing an expansion rate of over 16%."
The approach of deeply connected systems combined with an open ecosystem of partners has also now been adopted by the wider Siemens AG organization as it applies the same principles of combining the real with the digital with the launch of Siemens Xcelerator open business platform that brings together its expertise in industrial software with its knowledge and know-how as the number one industrial automation provider.
Partnerships & ecosystem
Hemmelgarn also highlighted the importance of building an open eco-system of partners, a core part of the Siemens Xcelerator strategy. From the recent project with Microsoft to leverage generative artificial intelligence (AI) to solve widespread production issue reporting via an AI-enabled integration between Teams and Teamcenter to another recent project for Norwegian battery start-up, FREYR. FREYR are producing batteries with renewable energy from wind power and water. Wanting to scale their annual battery cell capacity, quickly and sustainability, FREYR turned to Siemens in partnership with AWS and Nvidia to build an industrial metaverse of its factories, built on comprehensive digital twin.
Aerospace leadership
Realize LIVE has also provided a stage for Siemens to illustrate its leadership in aerospace and defense. From electric, zero emission startsups like REGENT or Wisk, who are using the Siemens Xcelerator platform to build new businesses to industry veterans like Northrup Grumman. BAE Systems and Lockheed Martin.
Brian Carbrey, Digital Engineering, Chief Architect, Boeing, delivered the compelling story of Boeing's digital transformation and adoption of digital engineering approach. This was a journey begun 40 years ago and culminating with a ground breaking approach to digital transformation that is paying dividends not only in future facing projects such as the T-7A Red Hawk, an all-new advanced pilot training system designed for the U.S. Air Force but also being applied to bring legacy programs up-to-date, from the F-15 to the B-52 Stratofortress, applying state-of-the-art digital engineering to platforms that have seen decades of service.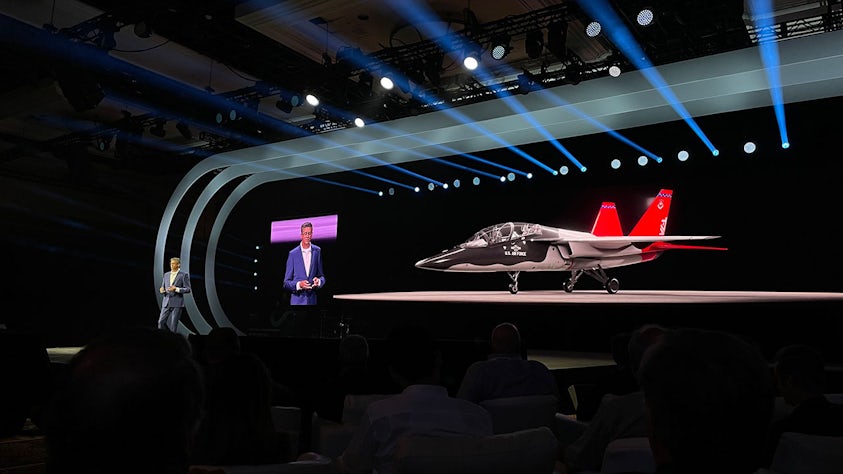 Brian Carbrey, Digital Engineering, Chief Architect, Boeing told the company's digital engineering story
"Today, together with key partners, the Boeing company continues to remain a pioneer in the development and integration of digital engineering in the aerospace industry. Being able to connect customer needs and desires to operator solutions, we have our digital thread and contained within that digital thread is not just our digital engineering, but also contain digital manufacturing and digital sustainment," said Boeing's Carbrey. "We've achieved greater efficiency, productivity, quality, safety and faster speed to market through digital engineering."
Solving complexity for all
A constant theme across the first day's activities focused on solving complexity in engineering and manufacturing across all industries. Hemmelgarn discussed Siemens' approach to providing a singular source of truth in which to solve complex problems, whether in aerospace, defense, automotive or battery manufacturing. "We made sure we have one architecture, seamless between the cloud and on-premise. We're not going to make a chasm for you as you go from one version of software to another. We're going to keep you there and enable you to go where you need. We've invested heavily to make sure we're not creating those kinds of problems for customers but creating an opportunity for our customers to leverage our technologies."
"Better than anyone in the industry, we've integrated our technology into a comprehensive solution," said Hemmelgarn as he wrapped up his keynote. "Here's our commitment to you: you've heard us talk about the strategy of the comprehensive digital twin. What do we mean by that? The value of the comprehensive digital twin is how close the real resembles the virtual. We're never finished here; we keep investing to make it truly comprehensive because that's what our customers ask us to do: to help them solve the complex problems they deal with every day.