EinDollarBrille e.V. is bringing affordable eyeglasses to the world's most in need communities using Solid Edge® software from Siemens Digital Industries Software. Founded in 2012, EinDollarBrille provides tools and training to enable its team and partners across 10 countries to manufacture the OneDollarGlasses eyewear without electricity using a revolutionary machine that is now being further developed and manufactured using software from the Siemens Xcelerator portfolio.
"I wanted to create eyeglasses for less than a dollar's worth of materials, so that even the poorest could afford them," says Martin Aufmuth, founder and CEO, EinDollarBrille. "To really offer long-term and sustainable help we didn't want to simply ship out glasses, but rather enable the people in the respective countries to help themselves. That's why our plan was to get the OneDollarGlasses designed and manufactured onsite with a machine that didn't require electricity."
After developing his initial concepts, prototypes and sketches using mainly manual and non-digital methods, efficient manufacturing processes needed be set up to help achieve the required production quality of the glasses – a process that starts with design, drafting and digitization. While there were individual sketches and drawings of the bending machine, there were no 3D CAD models that could be used for the next steps – for example, data that could be transferred to CNC manufacturers.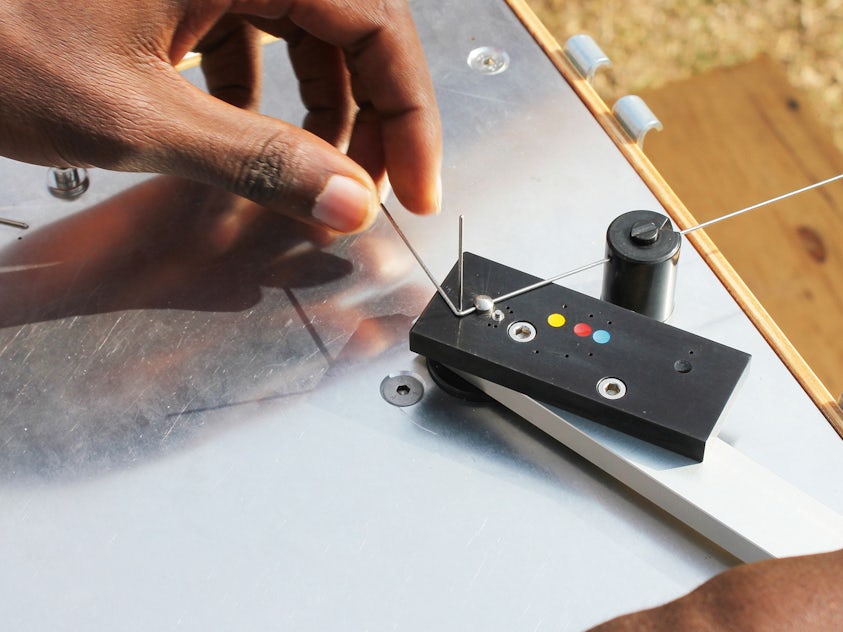 EinDollarBrille provides tools and training to enable the manufacture of the OneDollarGlasses eyewear without electricity (Image credit: EinDollarBrille e.V.)
To solve this, Siemens' Solid Edge and one of Siemens' solution partners (PBU CAD-Systeme) came into play in early 2022. With the help of CAD consultant and volunteer, Sabine Adams, the bending machine (now on its 13th generation) has been developed further and perfected while other tools and gauges required for glasses production have been optimized.
In the first step, Sabine Adams modeled the glasses and their lenses in 3D using Solid Edge and this intelligent 3D product model is then used for documentation and certification of the bending machine, the glasses and used many times to order lenses. For the bending machine, Adams received the existing hand sketches and some technical drawings on paper with handwritten notes. Together with the team, she defined the dimensions and tolerances as well as the necessary forms to get the innovative bending machine professionally defined and documented.
Since the invention of the ground-breaking OneDollarGlasses machine the organization has grown to encompass around 500 volunteers and employees worldwide. Learn more about how EinDollarBrille have revolutionized bringing glasses to those that need them using Siemens' Solid Edge software here. Siemens supports startup organizations focused on making the world a better place through our Solid Edge Startup program.